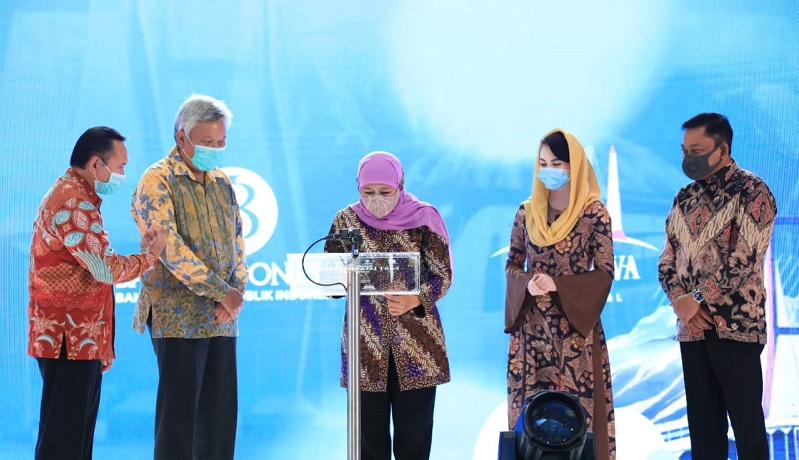 The East Java Investival (EJI) 2020 which was held by the Provincial Government (Pemprov) of East Java (Jatim), Thursday (27/11/2020) was a success. The investment presentation in East Java was attended by various investors from within and outside the country. Various investment opportunities in East Java emerged at this event.
East Java Governor Khofifah Indar Parawansa is optimistic that this activity will be an entry point for potential investors who wish to invest successfully in East Java
"The EJI 2020 which is held by this hybrid is like we are beating a gong. This is part of our starting point to expand our network to the best of our ability to increase investment in East Java, "said Khofifah when opening the event..
Khofifah said, East Java Province is determined to build a halal industrial area. In fact, currently 148 hectares of land have been prepared with a company in Sidoarjo. He hopes that Indonesia as the country with the largest Muslim population in the world can enter the top 10 of the world's halal food industry.
"Indonesia has the largest number of Muslims in the world. According to the State of Global Islamic Economy 2019-2020, Indonesian halal food has not entered the top ten in the world. If fashion is halal already. So we want to prepare a halal industrial estate, "she said.
Because, according to Khofifah, the potential for halal culinary in East Java is very abundant. Therefore, it would be a shame if it was not maximized. "This potential will bring benefits if Indonesia is in the top ten," she said.
Khofifah explained, the halal industrial estate will be equipped with an LPPOM MUI laboratory, processing of halal certification and also all industrial facilities. Meanwhile, the targeted industries range from food and beverage to cosmetics.
"We will try to be able to bring in investors both from within and outside the country. Because this will be our entrance to get into the top ten. Of course, to grow the welfare of society in general, " she said.
The Indonesian Ambassador to Australia Yohanes K Legowo welcomed Khofifah's wishes. Therefore, he will send staff to follow up on the potential investment.
"Australia is indeed superior in the field of nurseries, while Indonesia is superior in terms of fattening. We will send staff to East Java for further communication. Because here (Australia) there are quite a lot of Indonesian diasporas who are successful entrepreneurs in cattle farming, and this is an opportunity, "he said.
Head of the East Java Province One Stop Investment and Integrated Service (DPM PTSP) Aris Mukiyono said the 2020 EJI event was predicted to encourage increased investment realization in East Java.
"After the 2020 EJI is held, we will follow up. For example, the governor's mother ordered about the construction of a hospital in Tuban. We will command it so that the investment requirements are met. We are watching it so that the investment planning can run concretely, "he said.
Aris said investment realization in East Java was still growing positively. In the January to September 2020 period, investment performance in East Java recorded an encouraging growth, which was 42.1 percent compared to the same period last year.
"The investment realization reached Rp. 66.49 trillion with a share of PMDN of Rp. 47.39 trillion and FDI of Rp. 19.10 trillion. PMA is dominated by the Chemical Industry sector in Tuban Regency from Singapore, namely PT Pertamina Rosneft Processing and Petrochemicals, "he said.
Source : https://jatim.inews.id/berita/east-java-investival-2020-khofifah-ini-peluang-meningkatkan-investasi-di-jatim/all