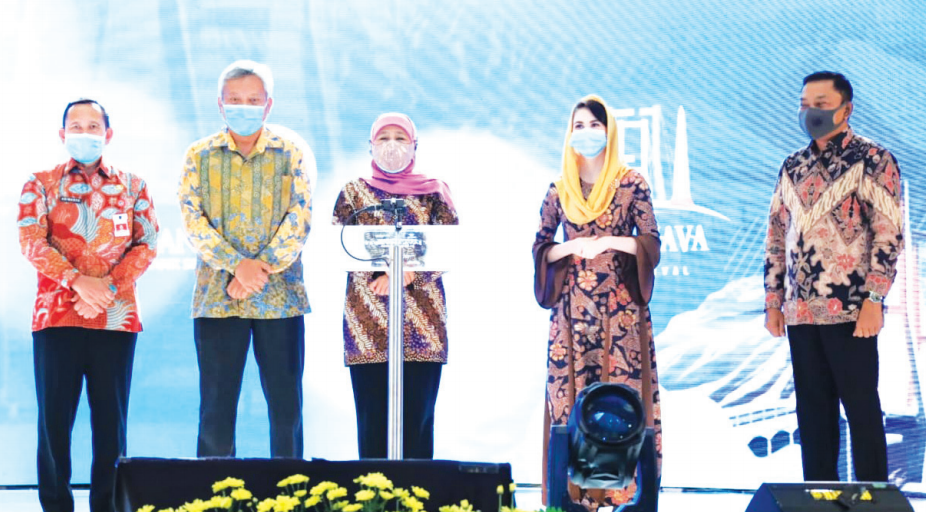 The East Java Provincial Government continues to strive to revive the economy of East Java in the midst of the Covid-19 pandemic. Especially in the halal sector, as the largest Muslim country it is hoped that it can penetrate the world market. In order to make it happen, this time the Governor of East Java Khofifah Indar Parawansa invited millennials to promote halal food to become the world's top ten.
"With the potential of millennial investment ambassadors, of course we hope that Indonesia will penetrate the top ten in the world for Halal Food," said Governor Khofifah when he opened the East Java Investival 2020 at the Ballroom of the Sheraton Hotel Surabaya, Thursday (26/11) afternoon.
A total of five people were selected to be East Java Investment Ambassadors, namely Mokhammad Faizal Mantovani from Mojokerto Regency, Kyagus Badius Sani from Probolinggo Regency, Shinta Harcatanu R from Kediri Regency, Andre Septia Pratama from Gresik Regency, and Fiki Ardiansah from Ponorogo Regency.
To the five elected people, Governor Khofifah expressed great hope that they could strengthen the role of millennials to improve the economy of East Java. Mainly by introducing the potential and facilities in East Java to potential investors both at home and abroad. He hopes that these ambassadors can become the spokesperson for East Java for the international community.
"I think they will be able to identify potential investors who can invest in various sectors in East Java," ordered this number one person in East Java.
Governor Khofifah referred to these various efforts as an effort to continue to safeguard the people's economy while still implementing strict health protocols.
"I want to say that this is our effort to build economic growth in East Java. Of course it must be followed by a health protocol message, namely wearing a mask, washing your hands, and keeping your distance, "the message of the first female governor of East Java.
Also attending virtually at the opening of the 2020 EJI, the Head of the Indonesian Investment and Coordination Board Bahlil Lahadhlia, the Indonesian Ambassador to Australia Kristanto Legowo, Chairman of the East Java Dekranasda Arumi Bachsin Emil Dardak, Head of the BI East Java Representative Office, Difi Ahmad Johansyah, and the ranks of East Java vertical agencies accompanied by representatives of investors who signed the MoU.
Meanwhile, the annual agenda also successfully signed six MoUs from various sectors. Among them, the construction of an International Hospital in Tuban SERCO United Kingdom, Australia Branch with PT Ronggolawe Sukses Mandiri and PT Jatim Graha Utama. (nin / rek)
Source : Radar Surabaya