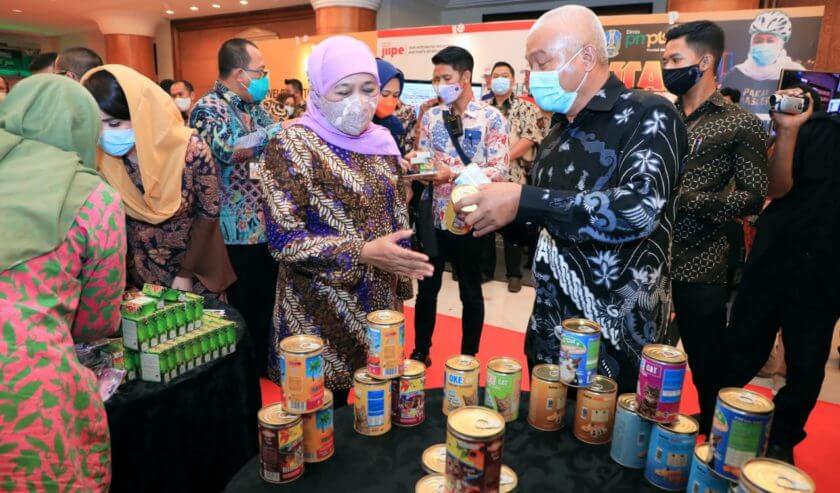 The East Java Provincial Government claims, the East Java Investival 2020 which was held at the Sheraton Hotel Surabaya Ballroom, Thursday (27/11/2020), was a success.
The grand event, which exhibited many promising investment opportunities in East Java, was held in a hybrid manner with business meetings, offline exhibitions, as well as conversations with sources in the midst of a pandemic.
A number of speaker such as the Indonesian Ambassador to Australia, the British Ambassador to Indonesia spoke with foreign investors who joined virtually.
In addition, the event which was opened by Khofifah Indar Parawansa, the Governor of East Java, also held a Business Forum, One on One Business Meeting, and Matchmaking.
"The EJI 2020 which is held by this hybrid is like we are playing the gong as part of our starting point to expand the network we have to increase investment in East Java," said Khofifah.
On this occasion, Governor Khofifah emphasized that he and the Provincial Government are determined to build a halal industrial area in East Java.
She claimed to have spoken with the Head of BKPM RI. Not only that, she has also communicated strategically with the Lao Ambassador and the Indonesian Ambassador to Australia.
Investments related to quality dairy cow breeds have also been welcomed. The Indonesian Ambassador to Australia welcomed Khofifah's intention and would immediately send staff to East Java.
Not only that, in the middle of the 2020 EJI event, a number of strategic agreements were signed. Among other things, the signing of the Letter of Intent (LoI) between PT JGU East Java and Shire Oak (energy sector).
In addition, the signing of a collaboration between PT JGU East Java and PT RSM Tuban with Serco Asia Pacific (health sector), as well as an MoU on the supply of raw materials for the seaweed industry and the porang processing industry.
In the midst of the Covid-19 pandemic, EJI 2020 is the Provincial Government's effort to increase investment from within and outside the country to East Java. So that the economy that has weakened due to the pandemic will recover.
To maximize this effort, the East Java Provincial Government also collaborates with East Java millennials to participate in promoting East Java investment opportunities.
They were asked to become East Java Investment Ambassadors as well as to become special communicators for potential investors from abroad.
Aris Mukiyono, Head of the East Java Investment and One-Stop Integrated Service (DPM PTSP), said the EJI 2020 event is predicted to be able to encourage investment realization in East Java.
"After this EJI 2020, we will follow up on what the Governor ordered. One of them is related to the construction of a hospital in Tuban. We will command it so that the investment requirements are met and run concretely, "he said. (den / dfn / ang)
Source : https://www.suarasurabaya.net/ekonomibisnis/2020/eji-2020-jadi-gong-bagi-investor-segera-masuk-ke-jatim/